Make your own animal crafts, making crafts is fun and easy! Make dogs, cats, rabbits and other animals tags, bookmarks, packaging, purse, cap, greeting cards & invitaton cards, T-shirts and many more! Fun for both kids and adults! Crafting makes fun!

Making crafts is easy and fun and you don't have to be creative to make animal crafts! Here, I will guide you step by step with clear instructions and pictures for easier guidelines. You will learn about making crafts with different techniques like stamping with acrylic clear stamps or rubber stamps, embossing, stencil.....etc, and best of all I do not just share with you how to do dog crafts but I also include other lovely animals crafts! Here, you will learn wide range of crafts not just limited to paper crafts but using other materials such as fabrics, recycled stuffs, wood, glass, clay,..... etc. Imagine this, each project will be your handmade craft which carries sentimental value. Once you have tried a few projects you would get the hang out of it and create more and more handmade crafts on your own! Most importantly, you are making the crafts with love for your love ones ---- your family, friends, and for your dogs or pets!!

Making crafts not only is the way to past time but it's also a way to relax yourself. So, start now! Make invitation cards, gift tags, bookmarks and other crafts and send them to your fellow dog lovers! Or make your own handmade greeting cards for the festive seasons with cute animal pictures! Or hold a friendly crafts class where you can have gathering with friends, dogs and pets lovers and crafts lovers, invite them to the class for creativity and inspiration and share your experience on dogs or pets and at the same time building relationship with them!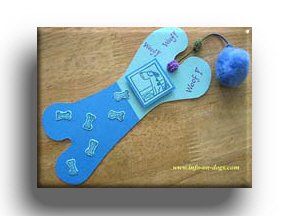 Also, for those who wants to raise fund for the dog shelters, or school projects, or raise fund for charity, this will be ideal projects for you. So, try your first paper craft now! It's gonna fun!
Choose the crafts below to start with and have fun!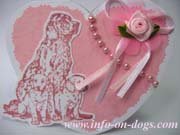 *Make Mother's Day Card in heart shape which can stand by itself!
You should not miss this card making if your mum is a dog lover!


---
*Make Easter Day Card with cute Bunny picture!
Fun and easy rubber stamp techniques - Easter card making!


---
*Make your own fun and easy animal crafts! - Dog Tags-1
Nice paper craft of dog tag for your doggy storage


---
*Holding Halloween Party? Don't you want to impress your guests with your handmade Halloween Invitaton Card?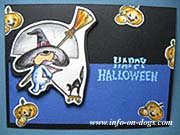 Handmade Halloween Invitation Card for your guests


---
*Make this bookmark with adorable Beagle picture, it's easy and fun even kids of 7 years old can do it! Ideal school project or charity project for SPCA!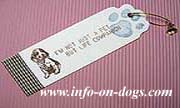 Bookmark with adorable Beagle picture and bell with important message -- "I'm not just a pet but life companion"


---
*Handmade sentimental Valentine Cards for your love ones with easy and simple technique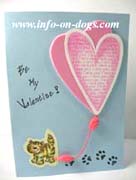 Make your own 3D Valentine Greeting Card with cute kitty picture and with the words "Be My Valentine"!


---
*Handmade Greeting Cards with Cranes picture using embossing technique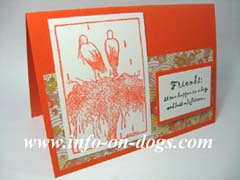 Make your own Greeting Card with Cranes picture and nice wording "FRIENDS - it can happen in a day and last a lifetime"!



subscribe my Free E-Zine and get a Free Doggy Bone Shape bookmark for Free! Best of all you will informed of the updates which you may have missed!
Making crafts - How to apply the craft embossing techniques
humorous dog pictures
sitemap
Homepage
---