Make Mother's Day Card with a soft touch!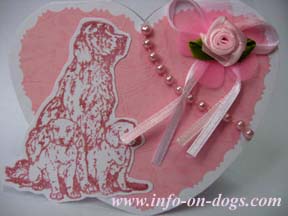 Pink color heart shape Mother's Day Card which can stand by itself.
Make Mother's Day Card to touch your mum's heart! Make your mum proud of you with your DIY card especially if your mum is a dog lover! Yes! You can do it, it's simple and easy!
Mother's love is the greatest, it doesn't apply only to human but to animals as well. Be it the birds, monkeys or dogs, the mothers will protect their babies even if they have to sacrifice themselves. As you can see here I use the picture of a Retriever standing alert by the two pups, best of all it is in the shape of heart! Get your tools and start making now! Enjoy!



Tools you need to make Mother's Day Card :
Papers :
- white card : two 5in X 8in, one 2.3in x 1in and one 4in x 5in, 200g
- one pink fancy paper with texture, if you do not have you may use any pink color paper : 4in x 5in and 2.5in x 1.5in
rubber stamp :
- New Stamp On The Block "Retriever and pups" 400130 and
- All Night Media Say It! "Happy Mother's Day"
- pigment ink pad : Versa Rose color
- embellishments : rose & ribbon and pink pearl chain can be obtained at any stationary or craft shop, pink pearl chain 3in
- scissors and wavy craft scissors
- star dust : Ranger acid-free shining star dust glue
- craft glue
- heat glue : heat glue gun and the glue stick
stationary : pencil, eraser


1. Fold the 5in x 8in card into two, at the folded side draw a semi heart shape then cut it out, unfold it you will get the full heart shape. Use it as a template and put on top of another folded 5in x 8in white card, put as close as possible to the folded side as shown, trace it and cut it out.



2. Put the heart shape template on the pink color paper, cut it out with the craft wavy scissors and paste on the front of the white heart shape paper.



3. Stamp the picture of the dogs on the 4in x 5in white paper, outline it and cut it out, position it on the front page of the card with some portion protruding out where it looks unique and also be able to "stand" by itself, (do not glue yet) turn over the card and trace it as shown, apply glue on the back of the dog picture but do not glue beyond the line which you have just traced then paste it, make sure you check at the back of the traced line and position it well.


4. Apply the ink pad on the rubber stamp "Happy Mother's Day" and stamp on the small white paper, paste it on the small pink color then inside the card as shown.


5. Decorate the card with embellishments, I recommend using the craft heat glue because it hold the materials better, but if you do not have you may use the craft glue for fabric and plastic, to highlight the picture of the dogs apply the glue dust, it's shining and nice! Here you are a card you make with love for your mum, congrat!




out of make mother's day card to other animal crafts
subscribe the free E-Zine
sitemap
homepage
---