Make Easter Card with rubber stamp
Celebrating Easter Day with your DIY greeting card! Yes! Make Easter Card in few minutes! Using rubber stamping technique, create the cute card with bunny picture, it's easy anyone can do it! Enjoy the crafting!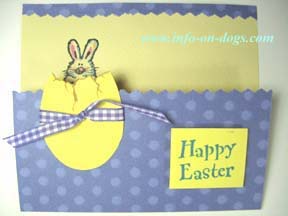 Make Easter Card with cute bunny picture



What you need to make Ester Card-
Paper :
one 25cm x 13cm light yellow paper 120g
purple fancy paper 13cm x 7cm 80g
one darker yellow paper 4cm x 5cm 120g
one darker yellow paper 6cm x 5cm 120g for the egg
- purple ribbon 13cm
- all purpose craft glue
- craft scissors
- rubber stamp : All Night Media 363D (bunny) and "Happy Easter"
- pigment ink : black and blue
- embossing powder : blue
- heat gun
- color pencil

1. Fold the paper as seen on the left, ( size of the front page : 7cm X 13cm ) to make the edge looks nice use ruler to press it.



2. Paste the purple color paper on the front page with glue, use the craft scissors to cut on the edge.



3. Apply the blue color ink pad on the rubber stamp then stamp it and emboss it. If you don't have the embossing heat gun and powder, you may just use pigment color pen to write the words. ( see instructions for applying rubber stamp ink and embossing techniques )



4. At the back paste the double sided tape, turn over to the front and paste it on the right corner of the front page of the card.



5. Draw a shape of an egg of the size of 5.5cm x 4cm then cut away about a quarter at the top of the egg, glue the ribbon on the back of the egg as shown to secure the position.



6. Turn to the front and tie the ribbon, at both end of the ribbons trim the edges to make a "V" shape.



7. Paste the egg on the left side of the card with quarter of the portion sticking out, with pencil draw a line to mark the position of the egg so that later on you will know where you should stamp the picture of the bunny.


8. Use pencil to draw the crack lines of the egg then cut away the access as shown, trace the crack lines with brown color marker.



9. Stamp the picture of the bunny then colour it.


10. Now fold back the card and here you are, Ester card is done!


---


Check it out for other fun and interesting crafts other than make Easter Card

Interested to know the next craft projects? Click here to subscribe and we will keep you updated

Craft embossing techniques

Sitemap

Homepage