Golden Retriever also known as Yellow Retriever and Russian Circus Dog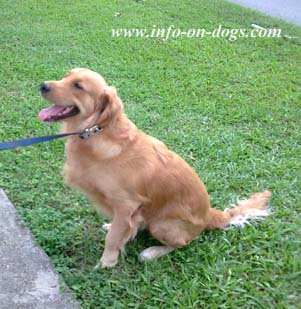 Dog breed : seen here is Golden Retriever in golden yellow coat.


Bred in Scotland owned by Lord Tweedmouth, Golden Retriever was believed initially evolved from crossing breeds between the Flat Coated Retriever ancestry and extinct breed Tweed Water Spaniel. It was gained popularity in late Victorian England. Until around 1920 it was known as Golden Flat Coated Retriever.

type : gundog, sometimes also categorized as sporting dog, good family pet too
country of origin : Scotland
since : 1800s
height : 50 - 60cm ( 20 - 24in )
weight : 27 to 36kg ( 60 - 80lb )
coat : from cream to golden color
temperament : delightful, alert, good retrieving instincts
characteristics : golden color wavy flat coat on body and tail, long body shape, straight forelegs
feeding : one and a half can of meat and biscuits in equal amount
exercise : plenty
grooming : regular brushing

**other dog breeds look almost alike : short coat Labrador Retriever of Newfoundland ( some in black ), Hovawart of Germany and Nova Scotia Duck Tolling Retriever of Canada and Flat Coated Retriever of Newfoundland.




Other issues about dogs you should not ignore.....
The Right Comb and Brush for Golden Retriever - Check out the type of grooming tools suitable for this dog breed. It is very important to use the right brush for the right hair coat so that you do not damage their hair. Learn the right way to brush or comb your dog's hair.

essential items you must have for your dog - find out what are the things you should prepare before and after bringing back a dog.

longevity of dog breeds - each breed has different lifespan, find out the longevity of each dog breeds.

Dog-age How does dog age related in human year? Hah, good question! It is important to know your dog age so that you give your dog the right food for the right age. Find out more!

Q & A - Having problems with your doggy? Need answers for your doubts? Find out the solutions and learn to avoid the common mistakes human does to their pets!

Homepage