Beautiful jewelry, charms and accessories for pet lovers!
That's right! If you are pet or animal lover and love jewelry, charms and accessories, get yourself or your love ones the jewelry in animal figures, they are cute and some are elegant! Made of semiprecious stones, pearls, glass or swarovski crystals, czeh beads, gold filled findings, 14k gold plated findings, brass, normal metal or nikel free findings, 925 sterling silver findings......and more. All jewelry are handmade with unique designs specially for you!
I have earrings, bracelets, key chains, necklaces......and other accessories will be added on. All of them are nicely created for all occasions.
So, what are you waiting for??? Get one for yourself now or as presents for your love ones! Hurry! It's limited addition!
---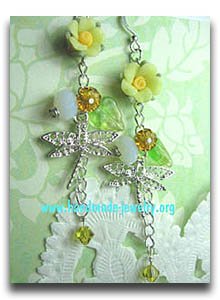 Droganfly charm earrings-ER472
materials : droganfly charms, swarovski crystals, glass & czeh beads, clay flowers
length : approx 7.5cm
price : SGD$24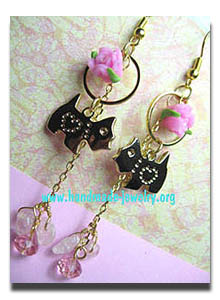 Schnauzer dog charm earrings-ER474
materials : dog charms, semiprecious stone rose quartz nuggets, glass beads, clay flowers
length : approx 7.5cm
price : SGD25
---

Contact Us - if you need urgent delivery of the jewelry, charms or others accessories, remember to code the item number

Homepage
---
Terms and conditions :
Due to the natural character of the semiprecious stones and pearls, it is impossible to have the same color, free from emulsion, same clarity or the same shape of the stones especially on repeat orders. Buyers are advised to take good care of their items, especially pearls and gold plated findings where they are sensitive to perfume and detergent.
We make sure all our goods are in good condition before we send out. Should there is any faulty due to the delivery, you are advised to return the item for repair/exchange and must send the item out within 7 days from the day you received the item with the condition that the item is never being used. Any delay we will not attend. Please note that we do not exchange/refund money. The duration for the repair/exchange is subjected to the materials availability.
All packets are by AIR mail and will be registered. If you need urgent delivery special arrangement may be made and the rates for express delivery will be charged accordingly. Just fill up your request form for special arrangement. ( on the left navigator bar/link "contact us" )
Upon confirmation of the payment, estimated delivery takes 7 to 14 days depends on the country of destination.
All packets are subjected to the custom inspection and clearance and www.info-on-dogs.com shall hold no responsible for any delay due to the custom's delay.
By clicking the "checkout" button means you are agreed with the terms.
---